The photo, from about 1940, shows veteran pilot Edward Orville De Larm (1888-1970s?) posing before a shiny new TACA Lockheed 14, that perhaps he had just delivered to the Honduras-based airline. De Larm was well known farther South. He had been a NYRBA pilot in 1929-30 (holding Argentine transport pilot license 288). In September 1930, he took off from Mar del Plata in an aircraft even more well known.
Fokker Tri-Motor NX4204 was painted a very visible red-orange with golden wings. Its initial owner was the polar explorer, Richard E. Byrd. However, Byrd instead flew a Ford on his Antarctic Expedition; the Fokker named "Friendship" was passed on to aspiring Trans-Atlantic fliers. Amelia Earhart, as a passenger in the airplane, became the first woman to fly the Atlantic. Shipped back to New York, the Fokker FVIIb 3/m was then sold to Argentina.
Chile was the destination for Eddie De Larm's September 1930 charter flight in the "Avion Rojo". Arriving at Concepción, the pilot along with his six passengers was arrested! A half-ton of "luggage" consisted of arms and ammunition for the Chileans' intent on overthrowing their government. De Larm escaped from confinement and made his way overland, across the Andes, back to Argentina. The confiscated "red" Fokker flew briefly with the military-run LAN airline before being dismantled for the engines and other parts.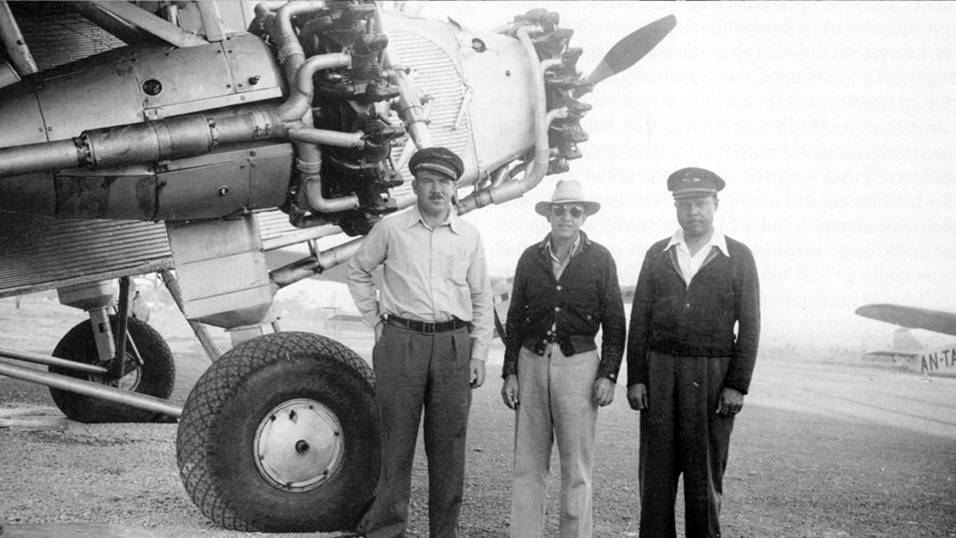 Eddie De Larm is said to have been the first American Indian (Arapahoe) licensed to fly (Oct. 1916) and to have engaged in commercial aviation. By 1967, he had accumulated over 22,000 hours in his long career. Among his four children was the notorious Jerry Delarm (note the spelling change), whose exploits will be later chronicled on LAAHS.com
Thanks to Richard Sanders Allen for much of this information.